29th June - 1st July 2018
Cheltenham Town Hall, UK
Live music at CITF

ROULOTTE TANGO
with Aureliano Marin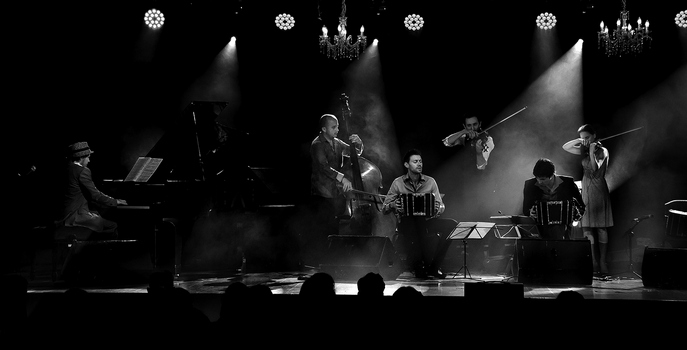 Credit: Dominique Becam
Roulotte Tango formed from a group of friends with a passion for tango music. They perform 100% danceable music with a traditional theme and are famous for their contagious energy.
For ten years, they have been playing for dancers at milongas and the most famous festivals across Europe where their dynamic style brings fun and high quality to tango. They take their inspiration from tango's most famous composers - including Di Sarli, Biagi, D'Arienzo - and bring you live versions of the most famous milongas, valses and tangos for your dancing enjoyment.
Roulotte Tango involve dancers fully in their interpretations by generously sharing their love of tango and arranging traditional themes known on dance floors across the tango world.
Roulotte Tango are:
Julien Blondel - Piano
Maxime Point - Bandoneon
Felip Nicholls - Double Bass
Mehdi Al Tinaoui - Violin
Remi Cortial - Guitar
Aureliano Marin - Singer